Are you tired of the dull and monotonous winter hues? Are you ready to embrace the vibrant colors and fresh energy of spring?
If so, it's time to awaken your fashion senses with some spring aesthetics!
Here we will highlight some of our popular art scarves and other art-inspired items and why they are great for adding a touch of sophistication to your outfits but also allow you to carry a piece of art with you wherever you go.
From the enchanting brushstrokes of Van Gogh to the captivating prints inspired by nature, these museum gift shop items are the must-have fashion essential for the season. Let's explore why these art scarves, raincapers, and umbrellas are the perfect way to elevate your spring style.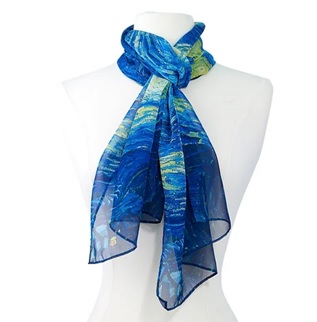 1. Van Gogh Starry Night Oblong Chiffon Scarf - A Celestial Symphony
Imagine wrapping yourself in a celestial symphony of colors and stars. The Van Gogh Starry Night Oblong Chiffon Scarf captures the essence of Van Gogh's iconic masterpiece.
The soft and lightweight chiffon fabric drapes gracefully around your neck, adding an ethereal touch to your ensemble. Whether paired with a classic white blouse or a little black dress, this art scarf will elevate your look to new artistic heights.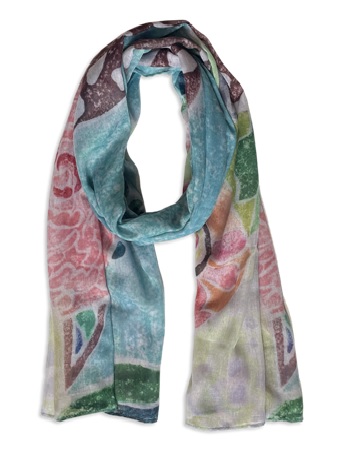 2. Spotted Dahlia Oblong Scarf - Floral Elegance
Spring is the season of blooming flowers, and the Spotted Dahlia Oblong Scarf celebrates nature's beauty with its exquisite design.
Inspired by a color woodcut from the early 20th century, this scarf showcases the intricate details of the dahlia flower.
Its vibrant colors and delicate patterns make it a statement piece that effortlessly complements both casual and formal outfits. Wrap it around your shoulders or tie it as a headband for a touch of floral elegance.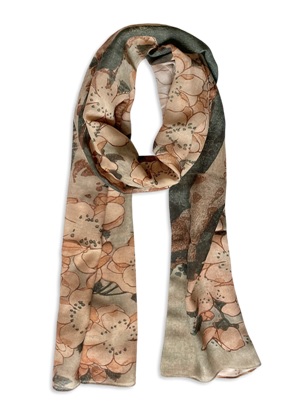 3. Hokusai Cherry Branch Modal Scarf - Timeless Grace
Capture the timeless grace of Japanese art with the Hokusai Cherry Branch Modal Scarf. Inspired by Katsushika Hokusai's masterpiece, this scarf features delicate cherry blossoms that symbolize beauty and transience.
Made from luxurious modal cashmere, it offers a lightweight and silky-smooth feel against your skin. Whether paired with jeans and a tee or a flowy spring dress, this scarf will infuse your look with a touch of Japanese sensuality.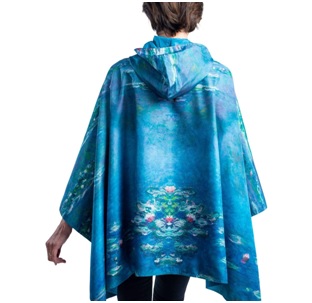 4. Monet, Water Lilies Raincaper - Functional Art
As the saying goes, "April showers bring May flowers." Stay chic and dry during spring rain showers with the Monet, Water Lilies Raincaper.
This versatile hooded rain cape combines functionality with the beauty of Monet's iconic water lilies. Its reversible design allows you to choose between making a bold art statement or opting for a soft teal impression.
Lightweight, packable, and rainproof, this raincaper is a wearable work of art that protects you from the elements without compromising style.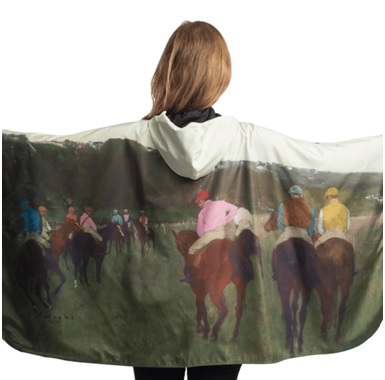 5. Degas Racehorses at Longchamp Raincaper - Equestrian Elegance
For equestrian enthusiasts and fashion-forward individuals alike, the Degas Racehorses at Longchamp Raincaper is a captivating choice. Inspired by Edgar Degas' love for horses and the thrill of the racetrack, this raincaper combines style and functionality.
Adorned with a scene of jockeys and their mounts, it allows you to express your equestrian style with grace and sophistication. Be prepared for spring races and rainy days with this wearable work of art.
As the rain showers bring life to the blossoming spring, why not embrace the season with artful umbrellas that perfectly blend beauty and function?
These umbrellas not only protect you from the rain but also serve as exquisite accessories that showcase the brilliance of renowned artists.
Let's explore a few examples of how these artful umbrellas can elevate your rainy day style.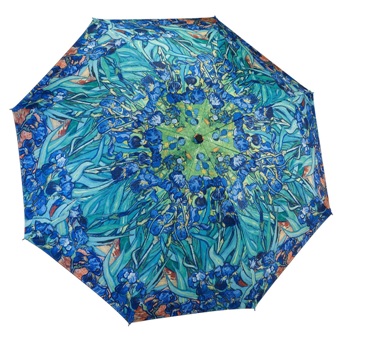 6. Van Gogh Iris Mini Umbrella
Imagine stepping out into the rain with a mini umbrella adorned with the vibrant irises immortalized by Van Gogh's brushstrokes.
The Van Gogh Iris Mini Umbrella is a testament to the fusion of art and practicality. Its stunning design captures the essence of Van Gogh's iconic artwork, enveloping you in a world of beauty even on the dreariest of days.
With its unique reverse close feature, this umbrella not only protects you from the rain but also becomes a conversation piece wherever you go. The art displayed on both the inside and outside covers ensures that you carry a piece of Van Gogh's artistic brilliance with you, sharing his passion for capturing the essence of nature.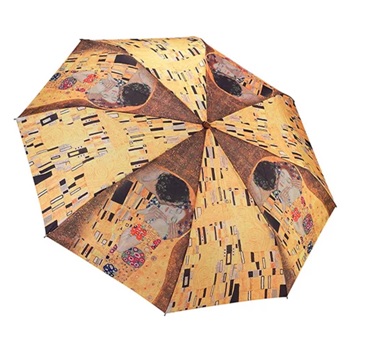 7. Klimt The Kiss Umbrella
For those who seek a touch of passion and romance, the Klimt The Kiss Umbrella is a captivating choice.
Gustav Klimt's renowned masterpiece, "The Kiss," adorns the reverse close umbrella, infusing every rainy day with the essence of love and intimacy.
As raindrops cascade over the umbrella's surface, you can't help but feel a sense of enchantment and elegance. The artistry of Klimt's brushstrokes becomes an extension of your own style, allowing you to express your appreciation for art in the most unexpected moments.
Carry this umbrella and let the world witness your admiration for Klimt's artistic brilliance.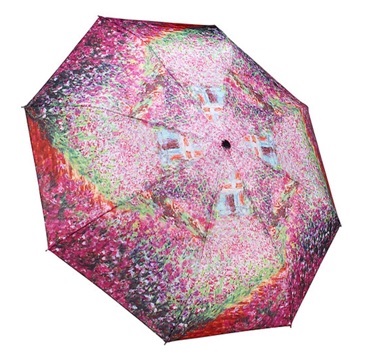 8. Monet Garden Mini Umbrella
If you find solace and inspiration in the serene landscapes of Monet's garden, the Monet Garden Mini Umbrella is the perfect companion for a rainy day.
With unparalleled designs featured on both the inside and outside covers, this umbrella brings Monet's impressionist art to life.
The umbrella becomes a portal to a world of artistic wonder, allowing you to carry the essence of Monet's masterpieces wherever you wander. Stay dry and indulge in the enchanting world of impressionist art with the Monet Garden Mini Umbrella.
Ready to Elevate Your Spring Ensemble?
Spring is the season of renewal and expression, and art scarves and umbrellas offer you the perfect opportunity to showcase your unique style and appreciation for art.
Whether you choose a delicate chiffon scarf inspired by Van Gogh's Starry Night or a reversible raincaper depicting Monet's water lilies, these accessories allow you to carry a piece of artistic brilliance with you wherever you go.
To discover these art scarves and umbrellas and explore a wide range of artistic products, Museum of Fine Arts Boston offers a curated collection that combines fashion and culture.
Our commitment to quality and attention to detail ensure that each piece is a wearable work of art. Visit our website or explore our online store to find the perfect art scarf or umbrella that speaks to your individuality and enhances your spring fashion.
Elevate your wardrobe, embrace the artistry of the season, and let your style blossom with art scarves and umbrellas that truly reflect your unique personality and appreciation for beauty. Spring is the canvas, and you are the artist—let your fashion choices tell your story.