Jean-Michel Basquiat is undeniably one of the greatest American cultural icons of our time. Born in Park Slope, Brooklyn, to a Haitian father and a Brooklyn-born Puerto Rican mother in December of 1960, he rose to fame in the 1980s for his distinctive Neo-expressionist style. Today, he is widely considered an icon of contemporary art with a persistent influence and reach in modern culture.
Being a young Black American, Basquiat had a unique story to tell in addition to a one-of-a-kind perspective on the world; both dictated his work. He was inspired by the vibrant culture of his home city, and incorporated influences from jazz, hip-hop, punk, rap, poetry, and street art into his pieces. From his humble beginnings tagging the walls of Manhattan as part of the graffiti artist duo under the pseudonym SAMO, he became an internationally-lauded Neo-expressionist in just 2 years, with his work featured at distinguished art galleries. At the height of his career, Basquiat was the youngest-ever participant invited to documenta, a prestigious contemporary art exhibition held every 5 years in Kassel, Germany. He ran with the likes of Andy Warhol and Keith Haring, befriended hip-hop artists and punk band members, and his art was selling for tens of thousands of dollars.
Unfortunately, his illustrious career was tragically cut short by his passing at the tender age of 27. He had only been active for 8 years as an artist at the time. Despite this, Basquiat's work continues to resonate with critics and mainstream audiences alike. His art has been described as raw and primitive yet complex, deeply intense, wildly colorful, and often controversial. It speaks on topics that continue to be extremely relevant today, belying the artist's thoughts on race, social justice, and the portrayal and plight of African-Americans in modern day America, among other thought-provoking subjects.
Are you a fan of Basquiat or know someone who is interested in this American artist's work? Here are a few Basquiat-themed gifts that you can score today from museum gift shops online, courtesy of us here at the Museum of Fine Arts, Boston:
Basquiat "Beat Bop Crown" Packable Tote Bag
Beat Bop is widely considered to be one of the most important hip-hop records of the last ten years. Some may even argue that it's one of the most important tracks to come out of the genre of all time. Funded, produced, and arranged by Basquiat in 1983, it was first released independently with a limited run of only 500 copies out of Basquiat's Tartown Inc. imprint. Basquiat also designed the initial cover art for the track.
Basquiat's extensive direct involvement in the track's creation and production isn't the only thing that gives it relevance. Beat Bop is performed as a 10-minute rap sparring match between his friends, graffiti artist Rammellzee and battle rapper K-Rob, who was only 15 years old at the time. In the recording, the two are polar opposites with likewise contrasting perspectives, having a vivid, descriptive conversation on the state of Manhattan—specifically, on the presence of crime and poverty in the borough. Underpinned by the stream-of-consciousness verses is Basquiat's barebones, experimental beat; it does not feature a chorus. Nevertheless, the recording is now a benchmark in rap music, one that has inspired and been referenced by anyone who's anyone in hip-hop, from the Beastie Boys to Jay-Z.
The original test pressing featured art designed by Basquiat, demonstrating his usual graffiti-influenced style. Unlike his work on canvas, though, it is drawn entirely in black and white. Featured on the front is Basquiat's signature crown motif, rough sketches of bones and lightning bolts, an artistic rendition of an explosion, and the name of the imprint, "Tartown Record Co". Rammellzee's name is misspelled on the artists' list on the back cover; something that reportedly irked him to no end for years.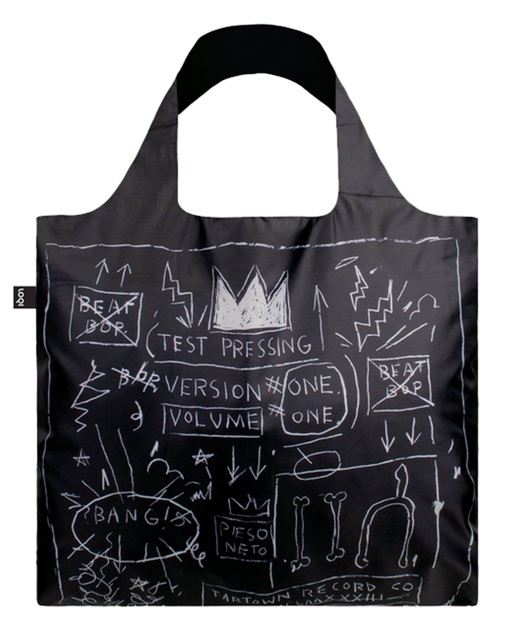 Given its rarity, it is one of the most valuable hip-hop records in existence, with vinyls selling for thousands of dollars. The Basquiat "Beat Bop Crown" packable tote bag available in museum gift shops online, specifically our shop, is by far a more cost-effective alternative. It is sufficiently roomy, measuring 19.7 inches, and capable of carrying up to 44 pounds. Made with water resistant polyester, it's a great way to show off your admiration for Basquiat and his lasting legacy.
Basquiat "Hollywood Africans" Bandana
Hollywood Americans is Basquiat's commentary on the stereotypical presentation and portrayal of African Americans in the entertainment industry – specifically, during the Golden Age of Hollywood. It features a self-portrait of the artist, along with his friends and collaborators Rammellzee and Toxic, on a trip to Los Angeles.
The work is presented on canvas and done in acrylic and oil stick in Basquiat's typical colorful, chaotic style. Around the portraits are words scribbled and subsequently crossed out; notably among them are "GANGSTERISM", "SUGARCANE", "TOBACCO", and the title of the piece. Basquiat has been quoted to have said that he crosses words out in his artwork specifically to draw more attention to them—in this case, the artist seems fully aware of how African Americans are discriminated against in Hollywood and in real life, thus limiting them on the whole.
Currently, the original is part of the permanent collection of the Whitney Museum of American Art in New York City. However, faithful reproductions of the piece are available at museum gift shops online. We carry it as part of our Basquiat catalog here at the MFA Shop as a bandana, produced by Rome Pays Off, a premium lifestyle and fashion brand based in NYC. With this versatile Hollywood Africans bandana, you can proudly show off your love for Basquiat and the message he means to convey with the artwork. It can be worn around the neck, used to accessorize a bag or purse, or simply hung up on a wall as decoration.
Museum gift shops online such as our MFA Boston shop are the best place to find excellent art-themed items for yourself or your loved ones. In our catalog, you'll find collections dedicated not only to Basquiat, but other well-known artists such as Klimt, Monet, and Van Gogh. Visit our website today and nab practical and beautiful products featuring the work of your favorite artists now.