Are you an art enthusiast with an insatiable wanderlust? Do you yearn to explore the world's most renowned cities, locations, and museums and immerse yourself in the beauty of masterpieces?
If so, you understand the unique joy that comes from combining art and travel. Whether you're strolling through the halls of the Louvre, gazing at Van Gogh's Starry Night, or admiring Hokusai's The Great Wave, there's something magical about experiencing art in person.
To enhance your art-inspired journeys and capture the essence of these masterpieces, we present a curated selection of essential accessories straight from our very own museum store.
These items not only reflect the soul and imagination of renowned artworks but also allow you to carry a piece of the "en plein air" artistic spirit with you wherever you go.
Get ready to embark on a journey that celebrates both your love for art and your wanderlust.
Embracing Iconic Art on the Go: Van Gogh Iris Cross Body Bag
Capture the commanding attention of the room with this unique Van Gogh Iris Cross Body Bag. The unmistakable blues and greens of the impressionistic irises take center stage, embodying the spirit of Van Gogh's artistic genius. The nifty tapestry satchel design not only adds a touch of sophistication but also ensures practicality for your everyday adventures.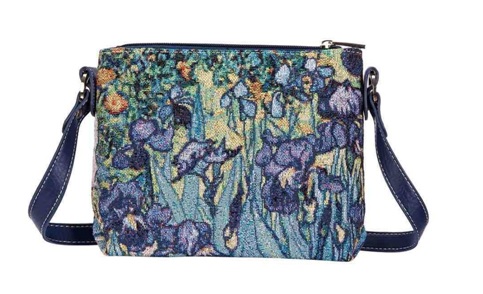 This compact and stylish bag is more than just a fashion statement; it's a functional accessory for your art-inspired journeys. With a zip top closure and a slip pocket inside, it keeps your essentials organized and secure.
Imagine exploring a gift store or museum store, effortlessly carrying this bag as you browse art prints, books, and other treasures. The adjustable faux leather shoulder strap ensures a comfortable fit, allowing you to move with ease.
Imagine walking the vibrant streets of a foreign city, carrying a piece of Van Gogh's iconic artwork by your side. As you roam the streets, visit galleries, or explore the local markets, let the Van Gogh Iris Cross Body Bag be a testament to your appreciation for art's beauty and practicality in every step you take.
Gift Store Shopping in Style: The White Sail Canvas Tote Bag
Sometimes, one of the most exciting things you can do while traveling is shop around for souvenirs. Whether you're jumping from one gift store to another, or dropping by every single museum store on your artistic pilgrimage, you need a proper tote bag to carry your priceless keeps.
The White Sail Canvas Tote Bag, featuring Blanche Lazzell's captivating artwork, becomes a vessel that transports both your essentials and your artistic spirit. The metal clasp closure ensures the security of your items, while the small pocket inside offers a dedicated space for smaller valuables.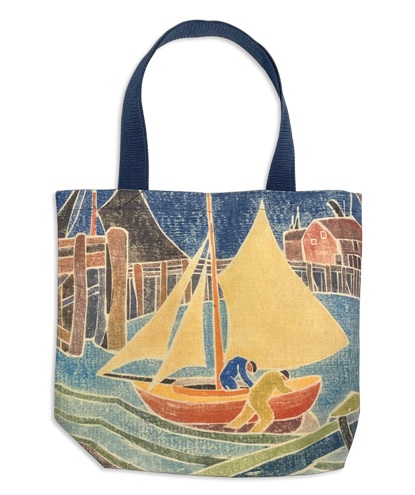 Each time you swing this tote over your shoulder, you're not just carrying a bag—you're carrying a piece of art history. Lazzell's color woodcut speaks of creativity, innovation, and the power of artistic expression. The tote becomes a conversation starter, sparking discussions about art, style, and the fusion of both.
Express Your Artistic Spirit with String Doll Keychains
When it comes to art-inspired accessories, why limit your artistic expression to just your wardrobe or travel gear?
Enter the world of string doll keychains, where miniature versions of iconic artists come to life. These whimsical and charming keychains not only add a touch of artistry to your everyday life but also pay homage to the masters who have shaped the art world.
Monet String Doll Key
This adorable miniature version of Claude Monet captures the essence of the renowned master with meticulous attention to detail.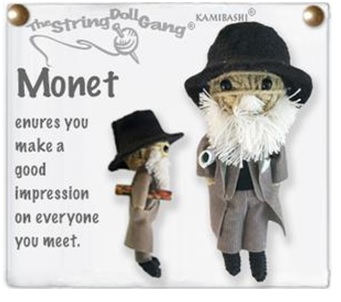 With a tiny painting of lily pads under his arm, this string doll keychain celebrates Monet's love for capturing nature's fleeting moments.
Attach this delightful accessory to your keys or bag, and let Mini Monet inspire you to see the beauty in everyday life. Carry a piece of artistic genius wherever you go, and watch as this mini Monet ensures you make a good impression on everyone you meet.
Picasso String Doll Key
Picasso, one of the most influential artists of the 20th century, defied conventions and revolutionized the art world with his daring experimentation and ever-evolving styles.
This petite Picasso keychain embodies the spirit of creative exploration and invites you to embrace your own artistic journey.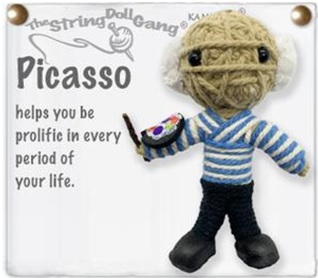 Whether you're an artist, an art enthusiast, or simply someone who appreciates the boundless possibilities of creativity, this string doll keychain is a symbol of artistic expression and the power of imagination.
Capture Your Artistic Journey with Inspired Journals
There is something truly magical about a blank page waiting to be filled with your thoughts, sketches, and creative musings. A blank page holds endless possibilities—a space to document thoughts, ideas, and artistic musings.
For those who appreciate the beauty of capturing art and inspiration from their surroundings, these two remarkable journals are the perfect companions.
Provincetown Back Yards Journal
This exquisite art journal showcases the work of Blanche Lazzell, an American artist whose vibrant color woodcut captures the essence of Provincetown's charming landscapes.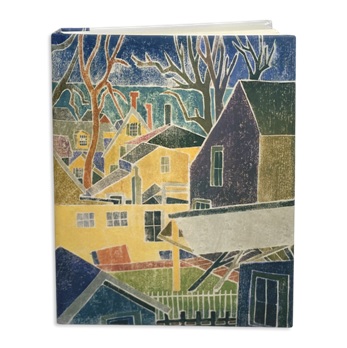 The journal's unlined, blank pages provide the freedom to sketch, draw, or pen down your thoughts, allowing you to embrace the artistic spirit that thrives within you.
Whether you're strolling through a picturesque garden or finding inspiration in the ordinary details of everyday life, this journal becomes a canvas for your inner artist.
Monet Pine Tree Path at Varengeville Notebook
The Monet Pine Tree Path at Varengeville Notebook is another choice for preserving your art-inspired thoughts and experiences.
With its lush blue and green cover by one of the most influential Impressionists in history, Claude Monet, this notebook becomes a canvas for your musings. The multi-color matte finish and sturdy hardcover reflect the resilience and beauty of the artworks that inspire it.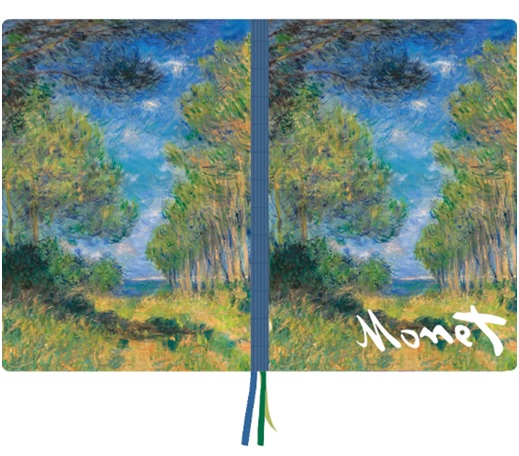 Whether you use it to capture your travel experiences, artistic inspirations, or personal reflections, the Monet Pine Tree Path at Varengeville Notebook becomes a sanctuary where you can immerse yourself in the beauty of Impressionist art and find solace in the act of self-expression.
Whether you're sitting in a cozy café overlooking a city's skyline or exploring a serene countryside, this notebook is your constant companion, ready to capture the essence of each moment.
Embrace Artful Exploration with Museum of Fine Arts Boston
As you travel on your art-inspired journeys, these essential accessories become more than just practical items; they are expressions of your love for art and your passion for exploration.
At the Museum of Fine Arts, Boston, we understand the desire to bring a piece of the art world into your everyday life. With our carefully curated collection of art-inspired accessories, we offer a gateway to a world where art and travel converge.
Explore the rest of our museum gift store to discover more unique and captivating products that celebrate the beauty of masterpieces. Let your wanderlust and love for art guide you on a remarkable journey, where every step becomes a brushstroke of inspiration.