It can be hard to find the right art print for your space without any direction. Certain works may fit well just about anywhere, while others might feel out of place in a business setting, for instance.
With a bit of research and patience, however, you can find the perfect Van Gogh print that fits any interior and makes it feel just right.
Is a Van Gogh Art Print Right for You?
If you love Vincent van Gogh and his work, you've come to the right place! Our online store features a wide variety of beautiful high-quality art prints that feature some of Van Gogh's most famous work.
Why choose an art print over a painting?There are several reasons really, the key one being your taste in art. Not everyone has the money, nor the ability, to obtain genuine pieces of artwork crafted by masters like Van Gogh. Art prints allow anyone to bring reproductions of their favorite artist's work into their homes with ease.
Of course, you will also want to consider your personal decor goals. Do you want a modern or more traditional look? What colors are you trying to add to your space? How will one of Van Gogh's timeless works add to the space? Asking these questions will help you decide which art print you would like to purchase!
The most popular Van Gogh prints for sale tend to be his city scenes, portraits, and various other floral paintings. Popular subjects in these prints include landscapes, cities, flowers, and abstract figures, so take this into account as well when determining the direction of the design for a particular room.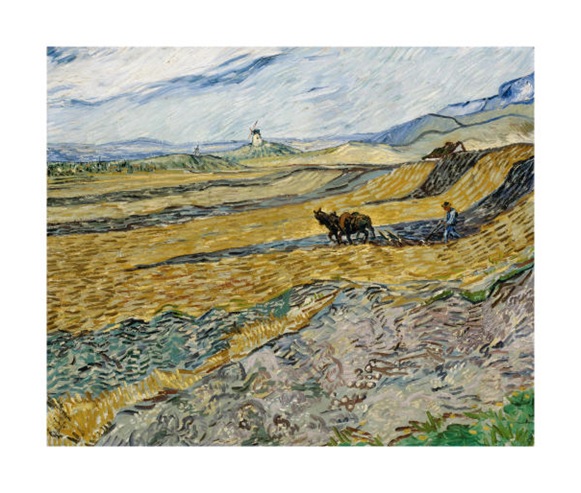 What to Look for in a Van Gogh Art Print
To choose the best Van Gogh print, look for these qualities:
Simplicity: More often than not, Van Gogh's work is a simple portrayal of daily life. His work is not meant to be a detailed depiction of certain scenes. Instead, he chose to leave the images in a surreal state, to make more of an emotional connection with the viewer. This approach made it easier to see the essence of his subjects.
Balance: Another quality you need to look for in a Van Gogh print is balance. Choose a print that is not too dark nor too light. Instead, pick a print that falls somewhere in the middle, that won't look out of place in your home or dominate a space. A good way to achieve balance is to pick a print that is not too large nor too small as well. Be sure to measure the space you are intending on using beforehand so that when you pick out your print, it will fit nicely. Don't forget the frame!
Recognize the Influences on Van Gogh's Work
Learning about the influences on Van Gogh's work can help you understand his style better and therefore make it easier to incorporate his artwork into your home.
In the late 1800s, artists were heavily influenced by the work of Italian Renaissance painters. This led to a new style of art that featured simple lines and shapes. To create this new style of art, the artists relied heavily on the use of color to create an emotional response from the viewer.
By the late 1890s, Impressionism was the dominant style of art. Impressionism was a style that focused on capturing an impression of a scene on canvas rather than creating highly detailed or photorealistic imagery. Van Gogh was heavily influenced by this style as well as the Italian Renaissance style. His work often features simple shapes and vibrant colors that convey an "impression" of a figure or scene rather than a detailed representation.
Understanding the Key Techniques used in Van Gogh's Art
While knowing the look you want in your home can help you choose the right Van Gogh print, it's also important to understand the key techniques used in his work. In most of his famous paintings, Van Gogh used a technique referred to as impasto, which utilized thick paint that would help to create bold shapes and unique textures. This technique was a key part of his work, and what distinguishes his work from other painters of the time, even other impressionists.
Vincent van Gogh understood how to masterfully utilize raw shapes, colors, and textures to his advantage to create pieces that connect with people on a deep level. His work is instantly recognizable, even after all this time. It's no wonder so many of us want his art featured in our homes.
Shopping For The Perfect Art Print
When you buy a Van Gogh print, you're investing in a beautiful work of art that will serve you just as well as a painting would. Depending on how you want to style your home or what you are specifically looking for, you may already be in the perfect place to find the right Van Gogh print for sale that truly has the look and feel you want.
If you love the way his paintings make you feel, or even if you're simply looking for a nice decor piece, just browse through our selection of Van Gogh prints and other products right here in our shop. We also have a robust print on demand service available that can help you find exactly what you want.
Artists like Van Gogh crafted artwork that still speaks to us today for one reason or another - very often with Impressionist works such as these, the value is in how the art is interpreted. We believe it's important for everyone to be able to enjoy these beautiful pieces of art, and prints are one of the best examples of ways to achieve this.
Looking for more? Our online art gift shop has an extensive variety of art prints featuring the works of other famous artists, along with plenty of other decor items, stationary, apparel, and more. And don't forget, members of Museum of Fine Arts Boston get 10% off all purchases!